Vinyl Printing & Pressing

Heatpressing is a process using heat and pressure to permanently attach a colored or printed piece of vinyl material onto fabric. It is great for items that need personalization (such as team uniforms) and very small runs where screenprinting isn't practical or cost effective. We use a premium quality vinyl to minimize the feel or "hand" of the vinyl while still producing the desired color and brightness.
Pricing
Please contact us directly for pricing.
Artwork Requirements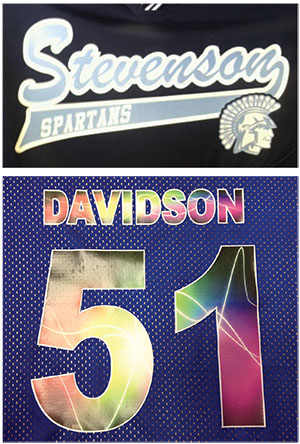 Orders for Names and Numbers on sized garments must provide a typed file from which we can copy and paste spelling. Vinyl print orders must provide artwork in vector format or a minimum 300 DPI resolution image.
Additional Information
Extremely bright and vibrant colors.
The most cost effective method for very short runs or name and number personalizations.
Vinyl heatpressing is very different from screenprinting. We do not guarantee a color match between vinyl and screenprint designs.
Printed designs do not usually require vector artwork. High resolution JPG images can be printed on vinyl.
Printed vinyl can hold much smaller detail than traditional screenprinting. However, small text or design elements cannot always be cut out of the vinyl and often needs a billboard behind the design.
Standard Colors

Premium Colors

Nylon, Stretch & Fluorescent Colors

Glitter Vinyl