Embroidery

Embroidery is the process of decorating fabric using needle and colored thread. It is considered an upscale look and often used for corporate wear on polos, dress shirts, jackets, and handbags.
Our Capabilities
We currently have 24 embroidery heads that we use on two shifts. Our machines are capable of decorating up to 16 colors per design with a maximum design size of 15" x 15"
Pricing
Please contact us directly for embroidery pricing.
Artwork Requirements
Embroidery requires that artwork be digitized to convert artwork into the sewing instructions that the machines can follow. If you provide us with the digitized artwork file in .DST format and if it sews well on the garments there is no charge. If we digitize artwork for you we have our artwork and digitizing services covered in the Additional Services section of this customer book.
Embroidery Thread Colors
We use the Madeira Polyneon thread chart for all colors. Please reference their thread sample book or call us directly with any thread color questions.
Embroidery Typeset Fonts
We have many embroidery fonts that we can typeset and do not require digitizing. Listed below are our most popular. See our web site at www.TwoFishApparel.com for a complete listing. Customized fonts will be charged for full digitizing.
Serif & Sans Serif Fonts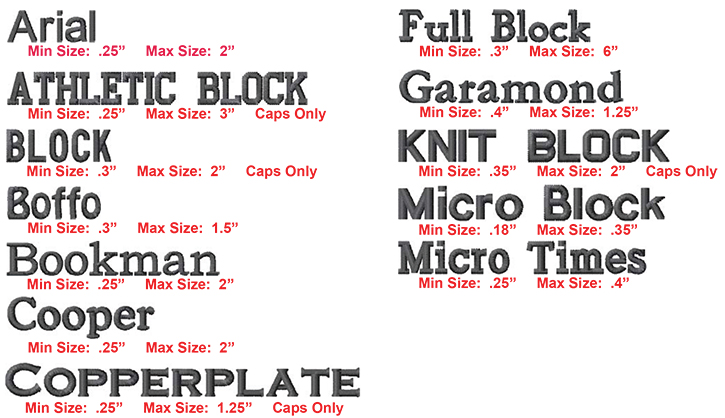 Script Fonts