Embossing & Debossing

Debossing uses a metal-engraved die along with pressure, temperature, and time to press into fabric a design mark that will not fade or wash away. It is an extremely rich look on fabrics and a nice alternative to traditional decorating techniques. It works well on cotton, polyester, leather, pleather, fleece, and polar fleece fabrics.
Our Capabilities
Any surface area that we can lay flat and get to the layer directly behind the decorated surface can be debossed. We can deboss any logo up to 12" by 12". Production time is usually 2 weeks after artwork approval (one week to make the die and one for our production).
Pricing
Please call us directly for pricing.
Puff or No Puff?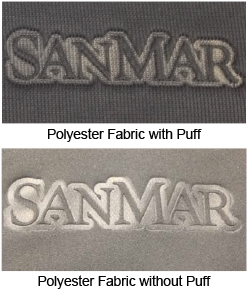 Puff is a foam backing similar to embroidery pellon. Puff gives a debossed logo a raised appearance and much greater contrast prominence. Cotton, fleece, and polar fleece fabrics require puff. Without puff the image on these fabrics will gradually relax and fade away. Like embroidery pellon, the excess puff backing is trimmed close to the design but will remain with the garment. Special Note – using puff requires that we get directly behind the layer being debossed. Fabric liners can be an obstacle depending upon the garment's construction.
Polyester, leather, and pleather fabrics can be done with or without puff. The advantage of not using puff is that there is no backing material behind the design. This is often preferred on high-end polyester garments. The image will not have the same contrast relief as images done with puff.
Artwork Requirements
Debossing requires vector artwork that can be turned into a 1-color design. For best results, no lines or text of the design should be less than 3 points thick. The decorating technique is subtle – so the design shouldn't be. The difference between Embossing and Debossing is in the artwork.
Debossing: This is the term when the logo is pressed into the fabric. The black artwork elements show what will be pressed into the fabric. This method is often not suitable for use with puff.

Embossing:  This is the term when the logo is not pressed into the fabric, but rather the areas surrounding the logo is pressed with the logo becoming a "negative" element of the design.  This is usually the required artwork for use with puff.

Examples